Complete Story

08/07/2023
CWPA in July/August
A Monthly Update for Members
Dear Members,
You spoke, and we listened!
Starting this month, there will be a monthly email about what is happening at CWPA: news, events, awards, calls. Constant and transparent communication was a recurring theme and request at the Town Hall table discussion in Reno. Look for the monthly email in your inbox first Monday of the month.
Topics in This Email
2023 Summer Conference
News and Updates
Upcoming Events
Current Calls
2023 Summer Conference in Reno
In July, we had our first in-person conference in four years in Reno, NV. About 165 people gathered at the Circus Circus Hotel between July 16 – 19 to share their work, discuss new ideas, contemplate problems, ask difficult questions, feel uncomfortable, give feedback, connect with diverse WPAs, and rejuvenate their administrative and scholarly energy.
At the conference, we also celebrated CWPA research award winners and recognized three gracious CWPA Past Presidents who dedicated a lot of their time and labor to the organization:
Dominic DelliCarpini (2017 – 2019)
Mark Blaauw-Hara (2019 – 2021)
Susan Thomas (2021 – 2023)
Last but certainly not least, we recognized Shirley Rose for her service as Director and Co-Director of the Consultant-Evaluator Service.
If you were not in Reno, you can watch the amazing keynote addresses by David F. Green and Dominic DelliCarpini at our YouTube channel.
Whether or not you were in Reno, you can enjoy discounts on books through August 15
50% from Utah State University Press/University Press of Colorado with the code CWPA23
20% from Parlor Press with the code WPA20
News
WPA Journal Spring 2023 Issue
The new issue of the WPA Journal was recently released and believe me, you want to check it out HERE. Thanks for all the hard work by the journal co-editors: Tracy Ann Morse, Patti Poblete, Wendy Sharer and Book Review Editor Kelly Moreland.
Culture Assessment Progress Report
We recently released Culture Assessment Progress Report on the comprehensive culture assessment work CWPA has been engaged in since 2021. I will continue to share updates on that important work as they become available.
WPA Outcome Statement Revision
Many members have been inquiring about the WPA Outcome Statement revision, and I'm pleased to share that the process has just started to revise that significant document. Dr. Michelle Bachelor Robinson, Spelman College, and Dr. Antonio Byrd, University of Missouri, Kansas City will serve as the committee co-chairs. The committee will start its work in November, allowing us ample time for thoughtful selection of committee members and discussion of committee charges.
I'll update you on the committee's work progress in the coming months.
Upcoming Events
I'm so glad to announce our new programming of virtual workshops on a wide range of topics. Check out the current line-up.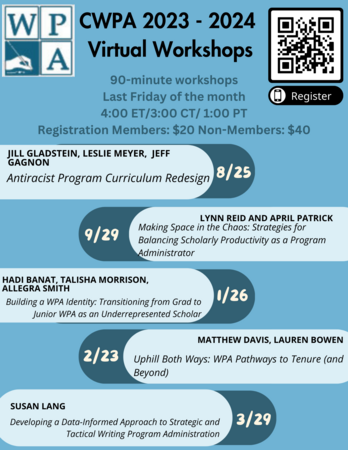 Please note that registration fees go toward a small speaker honorarium.
There are other workshops in the making, so make sure you check Upcoming Events regularly.
The August workshop "Antiracist Program Curriculum Redesign" is open for registration.
I'm also excited to announce a FREE Member-Only webinar on "AI and Writing Programs: Issues for Program Coordinators."
Not only is that a hot and stressful topic for all of us, but the topic was also raised at the Town Hall discussion in Reno.
The webinar is led by three of the MLA/CCCC Joint Task Force on Writing and AI
Holly Hassel, Michigan Technological University
David F. Green, Howard University
Sarah Z. Johnson, Madison College
The webinar is now open for registration.
Current Calls
Questions? Comments? Feedback? Please email me at councilofwpa@gmail.com
Until next month, Have a great and smooth beginning of your fall semester.
Lilian Mina
CWPA President
---